---
time: Monday 12 Apr 99 1:04 PM
from: Philip
host: user-2iveaau.dialup.mindspring.com
MESSAGE:
Chris — if you're not too busy can you enchapterize the Public TS so we can see how long the story's gotten? Also, I vote that (in honor of Saul Bellow's "Seize the Day") we entitle the unfortunate saga of Matthew Hickey "Carpe Testicularum."

---
Mon Apr 12 13:32:13 PDT 1999
Chris: That's a good idea Philip. I'll get to it shortly. I'm having a bizarre problem receiving packets and can't access the site with a web browser, or any other client. So if I make some blunder that ruins the site, feel free to let me know, as it won't be obvious to me.
---
Mon Apr 12 14:25:37 PDT 1999
Fixed. - nothing like a subterrainean DNS problem from the nether regions of pangloss.com to muck up the packet routing to those of us on the western seaboard. Fortunately the people at he.net are hard workers.
---
time: Monday 12 Apr 99 2:33 PM
from: Philip
host: user-2iveaau.dialup.mindspring.com
subject: The Good Dr. Pangloss is Ailing No More?
MESSAGE:
That sounds like the work of Vigo & Co.

---
time: Monday 12 Apr 99 4:46 PM
from: Lanark
host: 49.minneapolis-08-09rs.mn.dial-access.att.net
subject: Packet routing problems in the nether regions
MESSAGE:
I think they've got some sort of pill for that now.

Ok kids, I'm off to see the Residents.

---
time: Tuesday 13 Apr 99 12:16 AM
from: Chris
host: vault-particle.Berkeley.EDU
subject: I fell off the cutting edge of a flat earth and survived to...
MESSAGE:
Oh the Residents! How were they?

I'm continually impressed. MacOS8 to MacOS8.5 in 15 minutes with one mouse click. Smooth as a whistle and hello Sherlock.

---
time: Tuesday 13 Apr 99 12:41 AM
from: Philip
host: user-2iveakc.dialup.mindspring.com
subject: Mac OS
MESSAGE:
The computerfixerer at my old job told me (in a hushed conspiratorial whisper, no less) some rumor that Mac had signed a deal with Netscape to have the browser permanently built into OS9 (or whatever the hell version comes out next) with the proviso that there will be a permanent (i.e. unturnoffable) advertising banner implanted in the Mac desktop! Eeks! Invasion of the personal workspace! I smell Big Brother at work! Or worse yet, a conspiracy of those scary PC-user-types, driven on and on by an apocalyptic Bill Gates, wielding the ultimate wet noodle and screaming "Mush! Mush! Mush!"

---
time: Tuesday 13 Apr 99 12:51 AM
from: Lanark
host: 23.minneapolis-06-07rs.mn.dial-access.att.net
subject: Residents
MESSAGE:
Pretty good. The usual themed cabaret act. This one around the new CD based on the more lurid Bible Tales. Lots of blacklight stuff. The band was an actual rock'n'roll type combo (guitar, bass, drums and keyboards) big lighted scrims and funny masks and such. The big plus for me was that the band was wearing the eyeballs, which made me really happy. But not so strange as in times past. and in some ways not quite so great as the last tour I saw about eight nine years ago. (which has become in my mind at least a trancendant experience.)But all in all I'm glad I went.

---
time: Tuesday 13 Apr 99 2:20 PM
from: Chris
host: vault-particle.Berkeley.EDU
subject: MacOS
MESSAGE:
Thanks for the residents review. sounds great.

Re: MacOS. Philip, could it be? If it were true I'd eat my hat (my hat is made out of chain mail no less). No Mac user I know would stand for such a thing. No savvy Mac user (or decent hacker) could live with "unturnoffable" anything. Indeed, the day what you describe happens, is the day I wipe my Mac hard drive and install Linux there as well. Linux runs white hot on a Mac. Now I am depressed.
Well, actually now that I think about it, I have absolutely no faith in such a vicious rumor. However, if it were the case I suppose users would partition themselves into 3 classes. Those who commit Hara-Kiri dangly style by hanging themselves from their SCSI chains, those who install Linux and move on, and those who finally give it up and submit to some variant of that other more popular operating system. So I suppose everybody wins, because the system you use to get things done is the system that is best for you.
---
time: Tuesday 13 Apr 99 2:51 PM
from: Philip
host: user-2iveakc.dialup.mindspring.com
subject: Linux
MESSAGE:
Tell me of Linux, o wise one, for my curiousity unfoldeth like irresponsibly assembled burrito...

---
time: Tuesday 13 Apr 99 3:44 PM
from: Chris
host: vault-particle.Berkeley.EDU
MESSAGE:
continuing my railing against Philip's bad bad rumor.......I've wondered if it would be possible to have some kind of advertising/attention-freedom tax, like I'll gladly just give all my money to the corporations if they'd just leave me alone instead of treating every aspect of my consciousness/sensory input as their marketing real estate.

Linux? Well grasshopper, to me Linux is UNIX. It comes in many varieties. Linux is one of the free varieties that happens to run on machines that people place out next to their garbage cans (i.e. those 386's and 486's that many think are useless because they have difficulty running less efficient OS's made by the gentleman from Washington). And so Linux is available to those of limited material resources (such as myself).

Why UNIX? The world runs on UNIX. If you want to push information around quickly and efficiently, UNIX is your friend. UNIX provides you with a command line, whose power is limited simply by one's ability to think of things to do with it. There's a trademarked phrase "Where do you want to go today?" which in the context of it's trademark, depends on how much you can spend. With UNIX, where you want to go depends simply on how much you know. You have a myriad of programs waiting at your finger tips as standard parts of the distributed OS, That you would have to pay thousands of dollars to accumulate on a PC or a Mac. It's been this way for decades.

The problem with Linux/UNIX is that there is a steep learning curve. People don't know what to do with a command line. (Most) people don't think in terms of command lines. UNIX has an X interface (i.e. a platform independent windowing interface so you can have the best of both worlds - windows/graphical output AND a command line) but it too has a steep learning curve because everything is extensible.

If you want to get from point A to point B, give people a volkswagen and they'll figure it out. Give them an apache helicopter, and some people will get there very efficiently, but it's significantly more complicated and the majority will simply be confused. I've been using UNIX for 12 years. I still learn things almost daily, and am very aware of how ignorant I am about the rest. The most important thing is that people have a choice of operating system(s) that fit their needs and personality. Linux/UNIX is like being handed the hardware store/lumber yard. Whereas the PC and the Mac are kind of like prefab track housing in need of furnishings and accessories. I'll stop now.



---
time: Tuesday 13 Apr 99 4:49 PM
from: Philip
host: 101.new-york-18-19rs.ny.dial-access.att.net
e-mail: fishie_pie@hotmail.com
subject: the actual colonization of the virtual (sniff)
MESSAGE:
Chris

If you could post the URL whereby one can download a copy of Linux, I would be very happy.

Re: advertising: I agree with you entirely. I wasted a year of life/soul working in a Madison Ave. ad agency (why? -- probably to know the forces of darkness that much better: freelancing on the Death Star, so to speak) sitting in meetings reading socio-racial-economic demographics surveys and then listening to frightening examples of that area of the soul known as New Jersey try to figure out how, through word and image, to convince the upper echelons of the lowermiddleclass black (or white or Hispanic or whatever) community that buying the more expensive brand of Scotch would give them that certain... Sorry, I must go be sick.

More tomorrow. I must be off.

---
time: Wednesday 14 Apr 99 0:58 AM
from: Chris
host: ip199.oak.primenet.com
MESSAGE:
Well I'm not bothered by most traditional/voluntary advertising per se such as billboards, TV commercials, newspaper ads. I guess I'm used to and expect those. However, stuff like spam, blinky/high bandwidth computer advertising, phone solicitors that treat one like a slab of warm meat with an ear, ridiculous offers bundled together with my credit card statements, all that stuff kind of bugs me and I worry about the souls of those who hawk such crap. I once answered a job ad that turned out to be for phone solicitors. I needed a job bad, but after the introductory speil the speiler left the room for five minutes to give people a chance to leave now that they knew what the advertised job entailed. Only 2 or 3 of us left (out of 15 or 20). That's a decision I've never regretted. I found a job selling fish and chips instead. Now that's a job with real value, something I can belieive in. You hungry? You want some fish? You come to my shop I got some hot fish for you straight out of the fryer. Man that was a great job. A place called Race Street Fish and Poultry. Cuddles might know it (since it's in San Jose).

Anyway info about linux can be found at many places but one in particular is:
http://www.linux.org/, there's info and links to download sites for the various distributions. Don't get me wrong, UNIX is considered user-UNfriendly, obtuse, and basically what the truly geeky (aka the open source community) cut their teeth on, but we love it!

By the way, FYI, the Tandem Story and virtually all my pages are powered by Linux.

---
time: Wednesday 14 Apr 99 7:50 AM
from: Philip
host: user-2iveae0.dialup.mindspring.com
subject: Public TS
MESSAGE:
As a brief aside: I imagine some us must be flushing the sundry darknesses of winter out of our systems or something, because as I read through the current Public Tandem, I just thought, damn! Cannibalism, suicide, castration, emasculation, indecent exposure, strange and disgusting games with corpses and chickens, and trends which (vitriolic anti-Freudian though I may be) demand the term 'Oedipal' like nothing else.

---
time: Wednesday 14 Apr 99 9:28 AM
from: Lanark
host: 206.145.121.17
subject: Eunuchs....um...I mean UNIX
MESSAGE:
I wouldn't mind doing a bit of learning. (especially as I am constantly frustrated in my increasing dependence on the Evil Empire's cruddy OS and its many little unstable quirks. (In a lot of ways it reminds me of too many old girlfriends who seemed reasonably sane at the beginning of the relationship but later turned out to be quite irrational))
The question is of course, is it reasonably possible to run the dual OS's side by side on the same machine without a major freak out occuring. ( I unfortunately can't break entirely free of the Evil Empire as so many of the programs I use depend on it.)

---
time: Wednesday 14 Apr 99 12:35 AM
from: Chris
host: vault-particle.Berkeley.EDU
MESSAGE:
It is possible and once you figure it out quite easy and seemless. Last year, I broke down and installed Windows95 on my trusty linux box at home. Sometimes you have to play with the other kids. One of the main hang ups is plug and pray. It's best (at this point) to have hardware with defined IRQs that don't suddenly change for no apparent reason.

A full linux install with all the GNU treats like C/C++ and other compilers, various scripting language interpreters, vi, emacs, X everything, graphics libraries, LateX, mail clients, blah blah blah takes around 300 MB depending on the distribution.

Re: Flushing the sundry darknesses of winter, today is the first day I actually walked to the lab in a T-shirt in months. No jacket required.

---
time: Wednesday 14 Apr 99 12:53 AM
from: Chris
host: vault-particle.Berkeley.EDU
subject: By the way....
MESSAGE:
In terms of simply learning or gaining familiarity with a UNIX operating system, alot of people actually have access to UNIX without knowing it because most ISPs use some variant of UNIX as their OS. Often (at least as of a year or two ago) when you sign up for internet service, you get a shell account (i.e. a UNIX account), where you can put your web pages. Most people don't know what to do with a shell account, and simply dial-in and use the service for it's dialup access, and then use programs on their local computer to do the things they want through the dial up service, so their UNIX computer account simply acts as a gateway for their PC. If they wanted to learn perl or write a C program, or construct web pages they'd have the idea that they need to go out and buy a C compiler, and a word processor to write the program on their computer and compile it and run it there. When in actuality, their UNIX shell account, collecting dust at their ISP, has a variety of text editors they can use to write web pages or programs, compilers for virtually any computer language ready to be invoked at the stroke of a command, etc., etc. I suppose that could be changing now, as some of the big companies like MCI and ATT realize that what most people want is simply access to a modem and not direct command access to the remote CPU that the modem is connected to (i.e. no shell account), so a lot of ISPs are trimming off the shell account option - since most people don't know what to do with it, it simply becomes a security issue exploited by hackers. enough already.

---
time: Thursday 15 Apr 99 12:25 AM
from: Philip
host: user-2ivea9j.dialup.mindspring.com
e-mail: fishie_pie@hotmail.com
MESSAGE:
Well, I think that as everybodyandtheirmother gets a computer of their own, it'll get increasingly difficult to control your interface unless you know how to get underneath its ribcage and wriggle among the moistnesses of its virtual organs, creating extra livers where necessary and removing the unnecessary appendices and extra lengths of intestines, i.e.: learn to how to program. Anyway, Monsieur Seidel, what programming language do you suggest a person such as myself should begin with? C? C++? I know BASIC and (Director) Lingo and lots of Mac system code and I've tweaked un petit petit peu with ResEdit...

---
time: Friday 16 Apr 99 - Quarter to 2 AM
from: Chris
host: ip211.oak.primenet.com
subject: I think it depends on what you'd like to do or pursue
MESSAGE:
Bravo Bravo Philip. I see you are one who is brave enough to dive in and swim among the undertows of esoterica known as computer languages. I think the answer to your questions lies completely in what ideas you have in mind that you'd like to pursue with a compputer language. What direction would you like to guide your creative talents in. In some cases one might have to learn a little of some language before one can know what sort of things are possible. Then the motivation will feed itself. Otherwise one might take the simple approach of learn latin because it will be easier to learn other languages. While it may be true, latin is hard, and most people will simply drop it after a short time and give up on language, when what they're really interested in is learning french. In that regard C is like latin, except everyone still speaks it. You can write anything in C, and if you know C picking up other languages is a snap, and most other languages resemble C to some extent. However C is kind of hard.

If you just want to get stuff done, fast, learn Perl. It's free, it's easy. As it's inventor (Larry Wall) says it makes easy things easy, and hard things possible. However Perl is usually used to push text around (it's stands for Practical Extraction and Report Language) but it can do virtually anything. For instance the TS is a bunch of Perl scripts (the 3 way drawings are generated by C programs, but those could be done in Perl as well). Perl on the Mac is wonderful and interfaces with applescript, so your Mac is very powerfully scriptable. I just wrote a little mac perl script which runs at startup and (since Netscape has such a crappy, er, nonexistent history feature) parses my Netscape global history file, and makes a little probability tree of links I'm likely to visit (based on my history over the last few days), and ftp's the information to a remote server where my browser startup page is called from, and incorporates the infromation into my browser startup page (all Perl, about 30 lines of code). Since I often have to parse and manipulate information or generate web pages Perl is a great language. On the other hand, if you want to do more graphical things like games, or graphical illustration of information I might recommend learning Java. Or if you know of some stand alone apps you want to write, since you know BASIC you might consider something like visual basic since it allows you to slap apps together quickly with a minimum of coding. (visual basic costs money however, whereas Perl, Java, and C are basically free, though they can cost money as well depending). Unless you're in it from the McGyver point of view where any information is good information that can be used in some useful way, I'd say that what language someone chooses to tackle depnds on what you want to make the computer do for you. Thinking of writing web progrms actually provides a good entry point because web browsers serve as a premade user interface. Otherwise when you write programs, you have to write the interface, or there is no interface. With web browsers it's easy to take the output of a program and display it, which can include graphics.

---
time: Friday 16 Apr 99 9:20 AM
from: Frere Philippe
host: user-2ivea2f.dialup.mindspring.com
MESSAGE:
I ran an Altavista search for Perl and came up with over 5 million responses, all of which wanted to sell me Perl books and none of which... Any idea where I can download a copy from?

---
time: Friday 16 Apr 99 12:42 AM
from: Chris
host: vault-particle.Berkeley.EDU
subject: Perl
MESSAGE:

If you'd like perl for the Mac it's at (it was ported by a grad student named matthias):
http://www.iis.ee.ethz.ch/~neeri/macintosh/perl.html
It already exists as part of the environment on UNIX machines. And of course there's www.perl.com and www.perl.org A big advantage of a language like Perl is that people love it, and they write "modules" that do all kinds of things and then make them freely available at a big thing called CPAN (Comprehensive Perl Archive Network - or something). For instance there's a module for making gif images called GD.pm, whereby you can create gif images on the fly (I use tit to make graphs of information). etc. etc.

---
time: Friday 16 Apr 99 2:29 PM
from: Philip
host: user-2ivea1q.dialup.mindspring.com
subject: NOT another grad student named Matthias...
MESSAGE:
Well, I remember reading somewhere that Doestevsky was actively engaged in teaching himself ancient Greek (or some other language; perhaps it was Visual Basic) all the way up to and on his death-bed; that's (on certain levels) the official, idealistic/romanticized version of what I really have come to believe in, re: getting older — simply put, use it or lose it. When what you know stops challenging you, learn something new. The e-world can get so comfortable — people adapt themselves and their computer environment/habits/ad nauseum to what they (don't) know. So I've been inching towards expanding what I know of programming for a while... Thanks for the info/excuse to.

Have a swell weekend...

---
time: Monday 19 Apr 99 12:44 AM
from: Queen Procrastinate
host: 1Cust210.tnt3.santa-clara.ca.da.uu.net
e-mail: csrichards@earthlink.net
subject: I am the Queen!
MESSAGE:
Alright, I've got the day off of work today so I'm catching up on all sorts of things that I've been putting off. This is one of the more daunting things I have to catch up on and that's precisely why I've been putting it off. Ay ay ay, so much to read! (I think I'll skip the unix/linux discussion.)

---
time: Monday 19 Apr 99 12:48 AM
from: cuddles
host: 1Cust210.tnt3.santa-clara.ca.da.uu.net
MESSAGE:
Hmmm. Having just read the most recent MoTS entry, it seems we are traveling in circles again. Can't wait to see what I've missed.

---
time: Monday 19 Apr 99 3:08 PM
from: Chris
host: vault-particle.Berkeley.EDU
MESSAGE:
Hmmm. Are circles good or bad? I think MoTS is definitely comming to a head. The lobsters are becoming frantic, the women have escaped their taffy bonds, muffy and quiche la poodle are flying around the factory, Vigo has had his epiphany and a change of heart (and mind) about the lobsters, and there's a contingent of singing police and monty on the loading dock.

Lanark is hot today! I loved the allusion to thy sandle!

---
time: Monday 19 Apr 99 4:23 PM
from: Lanark
host: 130.minneapolis-18-19rs.mn.dial-access.att.net
e-mail: ignavia@worldnet.att.net
subject: Thanks Chris
MESSAGE:
I've been busy with other stuff for a bit (ie.I finally got my entire Fall collection enetered into my music database. If you know anything about the Fall's average release schedule, you'll comiserate) and got just got back.

I've also been doing a bit of Linux research this week and think I'd like to give it a shot. (the independent DIY aspect really appeals to me)But I'm still having a hard time finding the info on how to load it as a dual OS (as a fail-safe until I get beyond my still rather rudementary computing skills) the links on the Linux.org page "How-to's" were broken (or maybe IE just wouldn't display them. hmmm...) plus the linux.newbies newsgroup was a desolate empty wasteland.
any ideas?
(looking into teaching myself C too. but gotta wait a couple of weeks before I can afford a textbook.) Feeling the need to take the next step with this box I spend so much time in front of.

---
time: Tuesday 20 Apr 99 8:18 PM
from: cuddles
host: 1Cust187.tnt3.santa-clara.ca.da.uu.net
subject: Oops again.
MESSAGE:
One down, one to go. I'm glad not much has changed since last night when I finally got around to reading the hard copy. Any way, Chris, in MoTS, I meant to make a paragraph but it came out as bold instead. I guess I should have my cocktail after tandem story from now on. Can you fix it, please? Gotta keep the story tidy.

My husband brought home that Linux software weeks ago and was supposed to install it on our old computer (which is now sitting out in the garage making a nice home for spiders I imagine) so that are kids could use it. I wonder if he'll ever get around to it.

---
time: Thursday 22 Apr 99 11:34 AM
from: cuddles
host: 1Cust132.tnt1.santa-clara.ca.da.uu.net
subject: Helloooooo
MESSAGE:
Gee, been kinda slow around here or what? I guess it's my turn to ask - Where is everybody?

---
time: Friday 23 Apr 99 12:47 AM
from: Chris
host: vault-particle.Berkeley.EDU
MESSAGE:
No doubt everyone's busy leading an exciting 2oth century life. I know I am.


Well if your kids like programming, they should like linux. The system is built for it. curious hands can go a long way.

---
time: Friday 23 Apr 99 2:39 PM
from: Philip
host: user-2iveals.dialup.mindspring.com
subject: curious hands indeed...
MESSAGE:
I'll be back on next week, hombres y mujeres. Have been bogged down by other concerns, beset by a spring cold, kidnapped by gypsies, and otherwise reduced to a small, quivering mound of jelly (the mint kind, that certain people feel lobliged [that was a typo, but I look at it and find myself liking the word: a cross between 'obligation' and 'lobotomy'] to put on the table anytime lamb is being served. No one ever touches it, or if some strange person does, you never look at them the same way again. Not so different from those fruitcakes which stay in families for years, leaping back and forth over successive Christmases like genetic traits over successive generations...)
OK, I'm dopey as hell from Theraflu, gonna go crawl into bed with the last 3 chapters of Ada, or Ardor in honor of it being Mr. Nabokov's centenary today. Have a lovely weekend all. Stay out of your respective cookie-jars (except Lanark, who has transcended mere earthly modes of being and now gets to actually live in the cookie jar. Year-round. Some people -- it's uncanny...)

---
time: Friday 23 Apr 99 9:46 PM
from: Chris
host: vault-particle.Berkeley.EDU
MESSAGE:
A fruitcake showed up in the lab one day. We autoclaved it. 45 minutes at 121 degrees celsius and 15 psi. It shrunk a little bit and increased slightly in tensile strength. At least it was sterile after that.

---
time: Saturday 24 Apr 99 5:51 PM
from: cuddles
host: 1Cust232.tnt1.santa-clara.ca.da.uu.net
subject: In defense of mint jelly and fruitcakes.
MESSAGE:
Okay, I always thought the mint jelly was the best part of having lamb for dinner. Of course now that I'm an adult, I do enjoy enjoy the lamb, however I do eat it with mint jelly. As for fruit cake, well, I concede that most fruitcakes are inedible. In fact, the only edible fruitcake in the world comes from my mother's kitchen. She soaks the little buggers in brandy, and I mean SOAKS! Mmm mmm! You haven't lived until you've had my mother's fruitcake! So now you'll never look at me the same way again. Or than again, maybe you expected this of me.

---
time: Sunday 25 Apr 99 8:20 AM
from: lanark
host: 206.145.121.2
subject: In a year our exciting 20th C.lives will be old fashioned
MESSAGE:
Serendipity abounds for I too am reading Nabokov,("Speak, Memory" a childhood memoir of sorts)blissfully unaware of the centary dimension that also includes Duke Ellington amongst its honories and leading an exciting 20thC. lifestyle that includes spending too much time in front of a computer playing solitaire and watching TV. (Just about the only amenities besides track lighting you can fit in a cookie jar)
As for fruitcake, I did actually consume one once over the period of a poverty stricken week whence it was nearly the only (semi-)edible thing in the house. I would not necessarily care to repeat the experience.
And mint jelly, well...um...ah, you don't want to know

---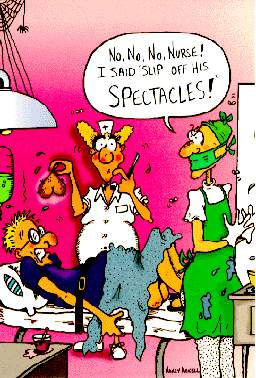 time: Monday 26 Apr 99 10:23 PM
from: Chris
host: vault-particle.Berkeley.EDU
subject: odds and ends
MESSAGE:

I think some of the bits on the current end of the public tandem need deleting or enhancing, so feel free to ignore it and go on with the general thread, I'll get to fixing those bits as I have time.

(Poor Mathew)

---
time: Wednesday 28 Apr 99 2:02 PM
from: Philip
host: user-2iveaii.dialup.mindspring.com
subject: Poor Matthew indeed
MESSAGE:
Yeah, it seems like we got overrun by the Jumblies (not to mention a frumious Bandersnatch) for a while there.
But Matthew's been through worse (and oh, what's to come...)

Chris, do you know why these submit boxes (lounge + stories) extend beyond the confines of a window now, no matter how large you make it? Is that a factor of Doc Pangloss, or of my own stilted Netscape prefs?

---
time: Wednesday 28 Apr 99 9:16 PM
from: Chris
host: vault-particle.Berkeley.EDU
subject: Do I what....?
MESSAGE:
Hmmmm. I'm not sure what you mean. You mean the "submit" or "post message" buttons? or the text input boxes exten outside of your browser window? That's sounds really cool, errr, interesting. From my perspective, the boxes and buttons all look and behave normally on MacOS with Netscape or IE, Win95 with Netscape, and Linux with Netscape. I suspect you have somehow twisted your Netscape prefs. Though I could be wrong. As I ocassionally find myself in mushroom status.

---
time: Friday 30 Apr 99 11:18 AM
from: Philip
host: user-2iveajo.dialup.mindspring.com
e-mail: fishie_pie@hotmail.com
MESSAGE:
Having invetsigated further, I think it's my Netscape...

Hey, all, as of now I'm between jobs. May not be able to Tandem all that much for awhile (sniff, sniff)

A lovely weekend to everyone except cuddles, who already is a lovely weekend incarnate, and lanark, who has an extra soul which once belonged to a bactrian camel named Farouk who himself was the property of Ali Baba.

---
time: Saturday 1 May 99 11:44 AM
from: lanark
host: 206.145.121.2
subject: the travails of Matthew J
MESSAGE:
Sorry Chris,
I just couldn't let it end on that lame note. There's still so much more to be done with it. (and it'll just get longer and longer) but it feels like we've only just got to the introduction.
and thankfully Spring is upon the upper Midwest and today I may bring my bike from the dust and cobwebs and dust of the basement and take my first blood pumping thigh hardening butt aching first run.
Yeah!

---
time: Saturday 1 May 99 2:20 PM
from: Chris
host: vault-particle.Berkeley.EDU
subject: Righto, old chap!
MESSAGE:
Excellent! I'm glad to know it. Feel free to add to, enhance, and carry on about the human condition of poor Mathew J. And I fully encourage you to be bold with your bicycle and use it to feed your your brain with endorfin engorged blood. I will be doing the very same shortly.

Sorry to hear about about your job situation Philip. I hope your severance from your last employer wasn't traumatic. I'm in an odd spot myself, but things are going ok for the moment. In May my research stipend comes to an end, but my thesis has yet to be writ, and I'm still doing experiments for it. So anyway, I could be considered to be between jobs myself. I'll be splitting my time between two major commitments, so if the Tandem appears a little neglected, worry not, it just means I'm busy, but someday I'll reach in and purge or change the "story wrecking" entries, cap off and rearrange things and what not.

---
time: Sunday 2 May 99 9:31 AM
from: lanark
host: 206.145.121.2
subject: it's sunny & mid 70's and I'm at work, and it's slow
MESSAGE:
Phew! that turned out to be a long one.
I feel better now. That's been festering in my skul for a couple of days now.
(now if I can only wangle a way to get my weenie ass out of this drab grey little box I'll be all set.)

---
time: Monday 10 May 99 11:53 AM
from: Lanark
host: 239.minneapolis-15-20rs.mn.dial-access.att.net
subject: doing a bit o'herding
MESSAGE:
golly, but it's lonely in here. (Lonelier still if I stop to consider that the reason nobody else is around is that they have better things to be doing and I'm just killing time avoiding my chores.)

---
time: Monday 10 May 99 4:38 PM
from: The Leather Nun
host: du124.cli.ptd.net
e-mail: digi@ptd.net
subject: Poor lonely Lanark
MESSAGE:
As lonely as it must be living in your cookie jar, I for one am glad you have nothing else to do with yourself. I was sad to see the public tandem disintegrate in the hands of such cretins. The true story of Mathew J. Hickey should only be told by those who knew him and had seen the legendary testicles with their own eyes.
Anyway...thanks for making it worth reading again.

---
time: Monday 10 May 99 7:41 PM
from: Chris
host: ip210.oak.primenet.com
subject: let the cretins fall under my axe
MESSAGE:
Don't let the cretins get in your way. I can take care of all the bogus entries by either deleting them or "enhancing them to fit" in some way as I read over the story when I edit it. I try not to be too judicious with the editorial blade, as I think everyone deserves a chance to contribute, but Philip always encouraged me to cut liberally if a given entry was suspect in some way (whatever that means). Poor Philip has disappeared into obscurity. I guess he wasa kidnapped by a band of gypsies.

As for me, my graduate stipend has just expired, however i was fortunate enough to find a part time job to finance the rest of my education. Which means my time is split between two labs instead of one. My ability to edit/contribute to the story may increase soon however.

---
time: Wednesday 12 May 99 2:26 PM
from: Philip
host: dfj11.dfjp.com
e-mail: fishie_pie@hotmail.com
subject: Gypsies
MESSAGE:
Mmmmrnph! I say, mmmph! (Sound of gag being spat away...) Untie these bonds, Sir, and you shall be handsomely rewarded by my father, the Duke of Zizz!