Tales and Pics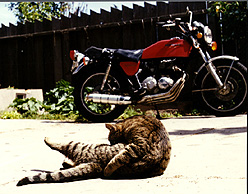 Always remember: Keep the rubber side down!
That's Spencer the cat hangin out in front of a '76 Honda 400F Super Sport with a six speed gear box. That thing can crawl through the Santa Cruz mountains like a lizard being chased through the underbrush.
If I finish my thesis I'd like to head east to Utah and then south to the Grand Canyon. Last summer I took a trip to the Oregon coast on a '76 Honda 750F Super Sport to see some friends get married. On the way I ran into an oregon cop. I also ran into something else.
---
Maintained by Chris Seidel